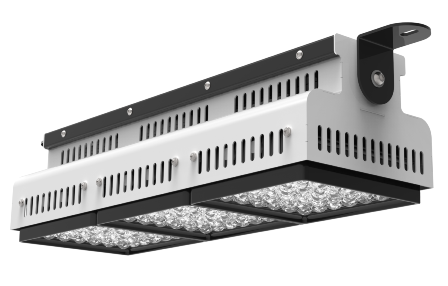 B BLOCK
Modularity and flexibility to illuminate every industrial indoor environment
SAVING
Energy saving over 60% and fast payback time
VISUAL COMFORT
High-quality light and uniform lighting
SAFETY & PRODUCTIVITY
 Safer environment, increasing in productivity and well-being
Product Information
The BBLOCK luminaires family are designed to provide high efficiency and functional solutions for different indoor industrial applications.
With a modern design and modular system, BBLOCK is available in three range of power and is suitable to optimally meet the different application needs. The high quality of light, the durability and high luminous efficiency ensure the proper lighting over time, with high energy savings and fast payback time.
Installation is quick and easy thanks to the mounting bracket and hook, facilitating the installation and maintenance.
Features
Wide range of lumen output from 7.000 lm  to 21.000 lm
High efficacy 114 lm/W
Longlife L70> 60.000 hours
Wide range of operating temperature from -30°C to +45°C
Color randering >70
Modular configuration: 1module, 2 modules, 3 modules
made in Italy product
Warranty: 6 years